How To Dress In Your 30s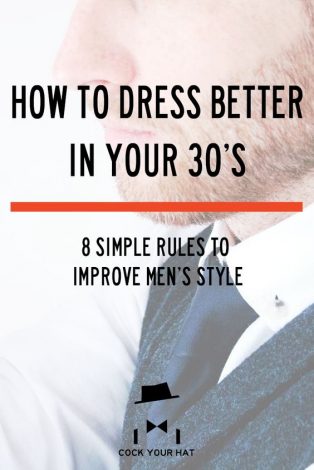 The experimenting stops right now. Here are 8 rules to dressing when you're 30.
My twenties were about experimenting with style. I didn't know it at the time, but now I look back – I realise I was just finding my way, unknowingly embarrassing myself. So, I could look at 'me' when I was 36 and write a blog post about it.
In my 20s, I'm ashamed to say it, I was happy wearing jeans with a graphic tee. Prior to that, I was more into surf-wear – which was probably a better look, in hindsight. But it got to me to this point; an oxford shirt wearing, indigo jeans sporting, loafer plodding thirty-year-old man.
Now I've worked out what my style is, I'm happy with it. Business casual is very much suited to my lifestyle.
A decade ago, dressing smart stopped at the workplace. At the weekend you threw on a pair of jeans and a white t-shirt and were happy with it. But today – dressing smart is an all-day occurrence, which raises its middle-finger to work-life balance. What you wear to work now merges with what you wear at the weekend. Looking smart is now a 24/7 thing.
Let's look at some celebrities in their 30s and see how they are dressing.
Fawad Afzal Khan – 36, Ryan Gosling – 37, Bruno Mars – 32, Chris Pratt – 38, Joseph Gordon-Levitt – 37, Tom Ellis – 39, Jason Momoa – 38, Tom Hiddleston – 37, David Gandy -38, Eddie Redmayne – 36.
Exceptional. Do you want to achieve the same look? Keep reading.
The Rules Don't Stop When You Get To 30
Rule 1: Experimenting stops right here
Men get better with age. Fact. So forget about your twenties. Forget about the experimenting. You've done that, been there, worn the t-shirt. It was ok to look embarrassing back then. Now, at 30, if you did the same, you'd just be a meme on Facebook.
Rule 2: Get to know what works for you
Go into some shops, try on some trousers, some shirts. Try some different cuts and find out what looks good on you, without looking baggy, sloppy or fashion forward. It's OK to go for a more relaxed taper. You're more refined now. If something fits well, like a v-neck t-shirt or a polo shirt – buy them in multiple shades. These will be staples in your wardrobe.
Rule 3: Learn business casual doesn't stop at work
Learn to remain wearing business casual but relax it, somewhat, when you leave the office. Now we are 30 there is no longer that clear line between workwear and casual wear.
Rule 4: Invest in quality classics
If you pay a little bit more for something which you're going to wear a lot – that's good value and a return on your investment.
That's why paying some extra for quality essentials is a wise choice. You will get a far superior look for a lot longer.
Suits are going to become the backbone of your wardrobe, as will blazers, sports jackets and chinos. Not forgetting shoes – you're going to need oxfords, derbies, wingtips, loafers, chukkas, monk straps and boat shoes.
We always say start with greys, navies and blacks because you'll get the most use out of them. Then when you are well versed in suit wearing, only then should you venture into buying patterned suits, different colours and heavier materials.
Make sure each item is tailored and fits you correctly.
Rule 5: Invest in superior accessories that will be staples in your wardrobe
Looking good requires you have the details nailed. You will need belts, tie bars, cuff links, bags, shoes, leather wallets, neckties and lapel pins.
Rule 6: Own more than one coat
Gone are the days when you could just wear your Superdry coat to any event.
You will need three coats.
My suggestions would be
a black or tan peacoat
a navy blue quilted jacket
a beige trenchcoat
Rule 7: Keep the bones moving
People know Adam is still alive and kicking because he moans every time he stretches or reaches for anything. He creaks every time he gets up and walks across the room.
Adam started to exercise and those creaks stopped. He felt happier for it too. He now looks better in his fitted trousers and oxford shirt.
Rule 8: Be ruthless with your old wardrobe
Donate your old clothes, which are still in perfectly good condition to charity or to your 20-year-old friend.
Throw out all baseball caps and graphic t-shirts.
Rule 9 (one for luck): Time to moisturise
Now is the time to start moisturising, boys. Sure, we look better with age but let's keep the skin taut before the wrinkles set in.
Visit the barber regularly and if the hair thins too much like mine – whip it all off!
And on that bombshell. I'm out.