My Favourite Color Combinations for Men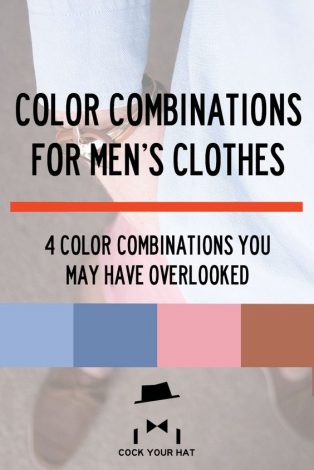 Knowing how to combine the right colors of clothing is the solution to improving your style.
I work with color combinations every day as part of my job, so I find picking out outfits, that work well together, quite easy. Although, that wasn't always the case. Back in the day, I wasn't fussed but honestly – I really had no idea. I didn't know how simple it was to instantly look better just by picking colors that worked well together.
I didn't know about complementary and analogous colors. And it really didn't occur to me that colors on the opposite side of the color wheel would be the best colors to wear.
These combinations will help improve your style and make you start to think, before picking items out of your wardrobe. So, let's jump into my four favorite colors combinations of 2017.
Burgundy & Navy Blue
Burgundy was very popular in 2017 and has entered my wardrobe through the addition of sweaters and scarfs. I tend to wear burgundy on the top half of my body, although it works just as well on the lower half.
I'm a huge lover of the oxford shirt since my style is more suited to smart casual. I don't get many opportunities to dress formally so instead I make sure I look my best for my environment, which is more often than not, the office. I love to wear my light blue oxford shirt, underneath a cashmere burgundy sweater. I wear this with smart fitted blue jeans and dark brown leather boots. These are the colours I'm tending to wear in the colder months of the year.
Pink, Blue & Tan
Without a doubt, this is my favorite color combination of them all. It's one I tend to save for Summer when I have the opportunity to wear my chino shorts. Once again this is a color combo that can easily be flipped and still look good, which is why in Summer you can see me in my pink shorts and a blue oxford, or my blue shorts and a PINK oxford. I love my pink oxford shirt!
I typically always pair this outfit with tan leather boat shoes (no socks or no-show socks). I would accessorize with a bracelet and watch with a leather strap, making sure to match the colors of my leathers. Remember, not to over do the matching of your accessory colors. It can look like you are trying too hard and the effectiveness of the outfit will weaken. On this instance, I think the anchor bracelet works well with the nautical theme I'm going for and the color of leather matches my footwear.
Green & Blue
Pantone called it 'Greenery', it's a few shades lighter than hunter green and was huge in 2017! It was everywhere. The bomber jacket, a style classic, was very popular in this shade of green. It works really well paired with grey. Once again navy works well with green, so I tended to wear it with dark blue jeans. Rich earthy colors work well with green, like deep reds, tan oranges and browns. Here's a casual outfit – a green long sleeve top with dark blue greens.
Grey, White & Black
When I'm not wearing a shirt, I'm usually dressing up an outfit with a cardigan. This is just a grey number I had, which I loved to wear with my black skinny jeans and white t-shirt. Super casual look but looks good with this monochromatic color combination.
Let me know which color combinations you try and which you think I should, so I can share them in another post.